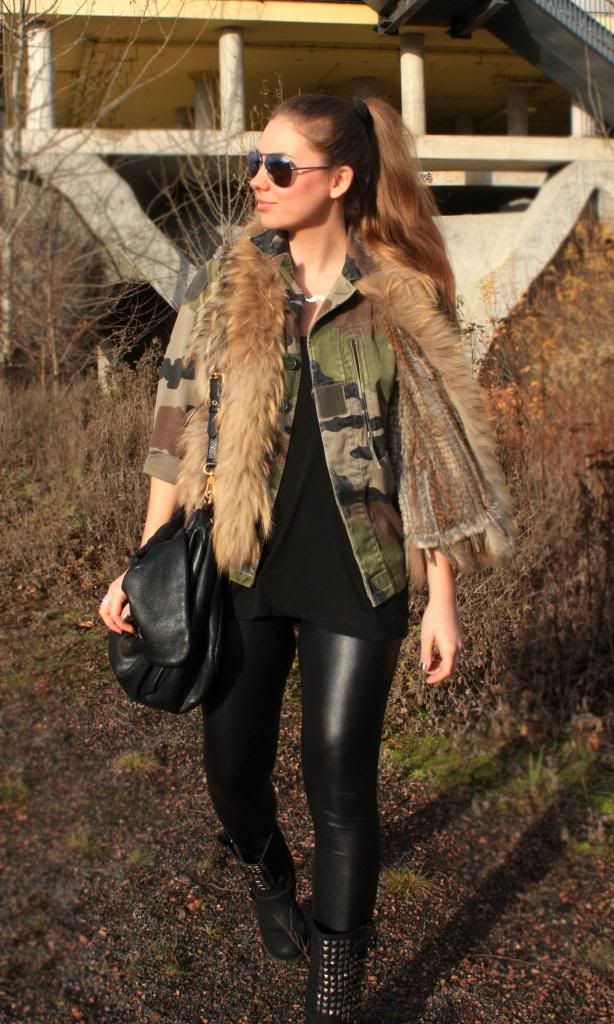 Buffalo boots
vintage fur vest
American Apparel leather leggings
Marc by Marc Jacobs bag
Accessorize moustache necklace
Patricia Field army jacket
ZARA sunglasses
black H&M top
There is nothing better than a sunny day in winter especially for taking photos for the blog. I spend my lunch break with my really good friend
Sabine
who took all this great pictures.
I decided to wear simple black cloths today in combination with my army jacket from Patricia Field and my vintage fur vest.
My biker boots from Buffalo are pretty new and it´s also a premiere for my leather leggings from American Apparel.
Sometimes I like to wear just black with some contrast pieces!! Xx Kim
Es gibt doch nichts besseres als einen sonnigen Tag im Winter um Fotos für seinen Blog zu machen. Heute war einer dieser sonnigen Wintertage, den ich in meiner Mittagspause mit meiner guten Freundin
Sabine
genossen habe. Sie hat auch diese tollen Bilder gemacht, für die ich mich noch mal ganz dick bedanken möchte, denn es ist nicht immer einfach mit mir. ;-)
Ich habe mich heute für simple schwarze Kleidung entschieden die ich mit meiner Army-Jacke von Patricia Field und meiner vintage Fellweste kombiniert habe.
Meine neuen Biker Boots sind von Buffalo und es war auch die Premiere für meine Lederleggings von American Apparel.
Manchmal mag ich es einfach mich ganz in schwarz anzuziehen und mit Kontraststücken zu kombinieren. Xx Kim